04 Aug

Developing Through the "Negatives"

Oh my goodness!  I can't believe this is live, that I've finally made it to this point…!  Welcome to my blog 🙂 the place I've created as a platform to showcase my work, share my story and the stories of others, and hopefully inspire or spark something in those of you who decide to follow me along this journey.

But first, let me back up and share how I got to this point to begin with…(I promise this will be my longest post 😉 but seriously, there is some good stuff in here…it's worth the read!)

On January 22nd 2014,  as I was working my corporate job from home, I received a mandatory call calendar invite.  These things happened frequently so I wasn't too surprised.  When I joined the call, I was asked to announce myself, (which wasn't normal)…and then I heard the voice of my department's HR manager…(uh oh…what's going on??)  Still confused, since there were numerous individuals on the call and in the meeting room,  I'm thinking to myself, this can't be that bad with so many people, maybe there is a leadership announcement.

Next words I heard:

"Thank you all for joining this meeting, as you know the company has been focused on streamlining functions across the board, and it is with a heavy heart that I inform you that today will be your last day with us"…blah, blah, blah…
I tried to cry, made that ugly cry face and everything…but nothing happened…
I mean NOTHING! No tears, no fear, no anxiety, no regret, no sadness…nope nothing!  Instead all I felt was this heavy weight lift off of me followed by laughter, happiness, contentment, praise, and excitement.  That's when I knew that I am exactly where I need to be.
My company was cool, my job was exciting (mostly from the outside looking in), but I was NOT excited about the work I was doing.
After getting off the call I prayed.  First thanking Him for what He had done and will do and then I asked for direction.  I had always dreamed about what it would be like to really have the time and the resources to focus in on my photography business and my craft, I just never knew I would be positioned to actually do it!!
So I got to work!
I laid the foundation of my business starting with the little things:  created an LLC, opened business accounts, hired an accountant and a lawyer, prayed, set up studio management systems, moved my website to a new platform, built my portfolio, prayed, found inspiration to redefine my brand, hired a graphic designer, designed a studio, and much more…but mostly I prayed and followed instructions.  It was as if business had taken off and I had more work and my days were longer than when I had a corporate job…and it felt AWESOME!!!!
Next I dove into my craft, I studied under extremely successful and talented photographers in each of the genres I shoot (portraits, weddings, corporate events, newborn).  I learned about their business models, learned from stories of mistakes they made, and exposed myself to new styles of photography.  Over time I was able to discover my own style, who I truly am as a photographer and break out of the mold of how I started and move to the next level.
These past few months have not only allowed me to develop as a photographer and business owner, but also as Rhonisha.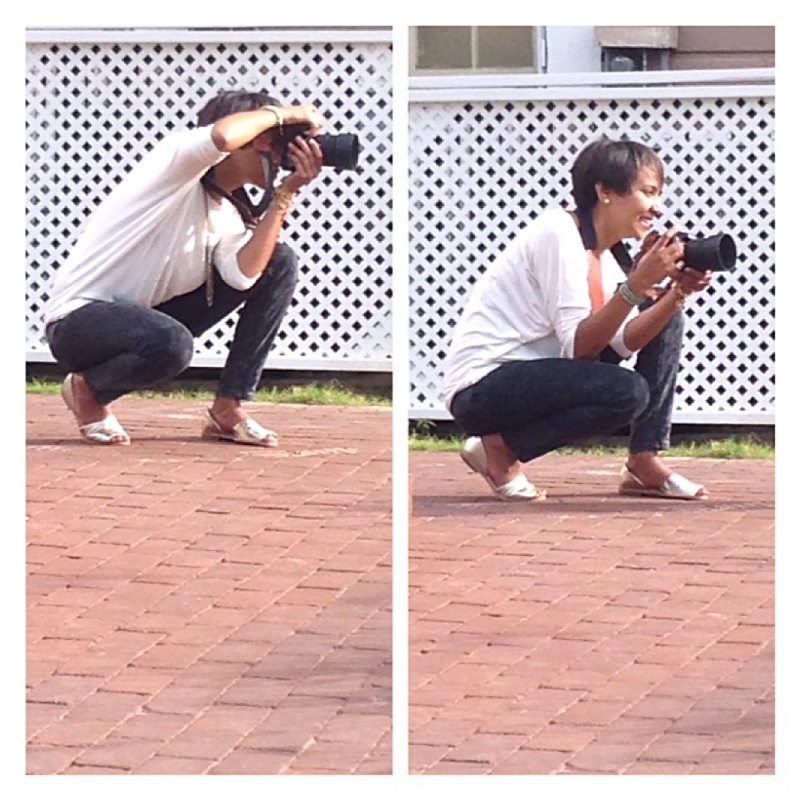 Now I don't want to paint this picture that everything was stardust and roses, because it most certainly has been anything but that!  There were times of uncertainty in what direction to take next, doubt in my own ability, fear of absolute and total failure, and loneliness in having to go through this on my own.  I made wise business decisions and frivolous business decisions, I made wise connections and distracting connections, I was wise with my time and wasted time.  But through all of it, ups – downs – in betweens, the Lord IS good!  He guides me back on track quickly.  When I'm on track I can know what direction to take, trust in HIS ability and not my own, and know that in Him there is NO failure.  I am made whole from unwise business decisions, I end distracting connections, find the discipline to use time wisely, and recognize all of the great support around me.
What makes this even better is that I knew it was coming…ok, maybe not all the details and certainly I did NOT expect anything to happen within the first 22 days of the year or within in the first 3 days of my 33rd year of life on earth, but I felt a change was on the horizon!
To give you a peek into what I saw, let me share a few excerpts from the personal notes I made leading up to when the first big change occurred ~ this is some good stuff so feel free to screen shot, copy/paste, whip out a pen and paper to take notes:
Doors will open that were previously shut and doors will close that shouldn't be open
This will be the year of divine potential to accomplish all we set our minds to do
January 5, 2014 – "I'm Still Optimistic About My Future" by Bishop Alfred Owens:
I will receive a new script for my life
Forget the past, be open to the God of change and surprise, and trust the God of the process
Process matters and how I trust Him through it matters
NO procrastination, get it done!
Seize the opportunity of 2014
January 9, 2014 – "It's Not About the Water" by Dr. Jazz – New Year's Revival
There are times when God calls us to leave the familiar to go to the unfamiliar
Storms are confirmation that I'm on my way somewhere
If He can speak to the storm inside of me, it doesn't matter what is going on outside of me
Nothing worse than being where God 

was

and not where He 

is
January 10, 2014 – "Ye Shall Not Go Empty" by T.D. Jakes – New Year's Revival
Sometimes God's strategy is to NOT to let me get what I planned because He wants to show Himself mighty through a crisis, then I'll praise Him and not them
Go back to the place I failed and fight it with His strength instead of in my own strength
There will be events that cause trouble, but it is God's design and I'm in a controlled environment
There is going to be a switch this year and the wealth of my enemies will finance my success
It's going to bigger than I think it is
Don't be my own Pharaoh, don't allow fear to bind me
January 11, 2014 – T. D. Jakes – Leadership Workshop
My mind is the tool that will change my life and I cannot change it with an old mind
The mind is the steering wheel of my life
Becoming what others needed me to be has robbed me of becoming who I was designed by God to be
The door is open!
January 19, 2014 – "The Way In" by Bishop Alfred Owens – My 33rd Birthday
In 2014, I won't have to knock because the door will already be open
Keep going after it, don't give up too easy and don't allow fear, doubt, and procrastination to hinder me
Dreams become reality when you put to work His strategy
So as you can see, I was bursting with confirmation that something was going to be different this year, but I still had no clue what to expect.  All I know, my eyes and ears were wide open and when it happened, I knew it!
The Lord is using photography as a tool to help me discover me and to see life from a new point of view.  About 4 months ago I felt a strong desire to share with others the things and people that have inspired and helped me along the way.  Of course whenever you start out on new endeavors that nasty voice in your head tells you all the reasons you can't.  Here is what I heard:
"Why in the world would you start something else? You're not a writer? People don't care about what you have to say? What if you say something that someone else doesn't agree with, what will they think of you? What if no one subscribes? Other bloggers have better stories, what makes yours so interesting? You're not ready. You don't have time. You don't know how. Who are you anyway, you're just a girl from Kalamazoo"
Here's the thing with that nasty voice in your head, you prove it right when you listen and don't do it.  You prove it wrong when you don't listen and
DO IT ANYWAY

!!

Yes, it's something else I'm doing – but who wants to be bored with nothing to do. No, I wasn't a writer – but I am now. Some people may not care – but A LOT of people do. I may…no, I WILL say something someone else won't agree with – but that has nothing to do with me.  Some people won't choose to subscribe – but A LOT will 😉 Other bloggers do have great stories – but mine is pretty awesome and the people I'll feature have pretty awesome stories too. No, I'm not ready – but start before you're ready.  I don't have a lot of time – but I can turn off Netflix and find more time. I don't know how – but I can take a class and learn. I am from Kalamazoo – but that itself has always sparked some great conversations, LOL!

I'd be SO honored if you joined me along this journey by subscribing above!!

I'd LOVE to hear if this post has encouraged you, inspired you, or even just made you laugh, please feel free to leave a comment below.